Shipping Information
Packing and Shipping Information
We strive to provide only the best quality and service throughout your entire experience therefore no corners are cut when packing and shipping your prized corals. We take the utmost care in making sure your corals arrive alive and in good condition. Please carefully read our terms and shipping policy regarding packing, shipping, rates, and options.

Request Your Shipping Day
Your preferred shipping date can be added to the order comments. We will contact you to verify the date. If no preferred date is listed in the comments we will prepare to ship your corals on the next available shipping day.
Packing Your Items

The first step in packing and shipping your corals is proper box selection, and we went out of our way to customize the box and foam units we utilize for efficiency and the safety of the corals we ship. We never reuse old boxes, and we've selected the best materials within reason for our packing material. We mostly ship frags mounted to a 1.5" disc in specimen cups containing a single coral frag. The frags are labeled for your convenience and the cups are placed in a custom insulated foam insert, then double bagged, and placed inside a 1.5" thick Styrofoam kit. When necessary, heat or cold packs are attached to the underside of the Styrofoam lid to minimize effects of external temperatures. The Styrofoam kit is then placed in a 200# box and secured with heavy duty packing tape.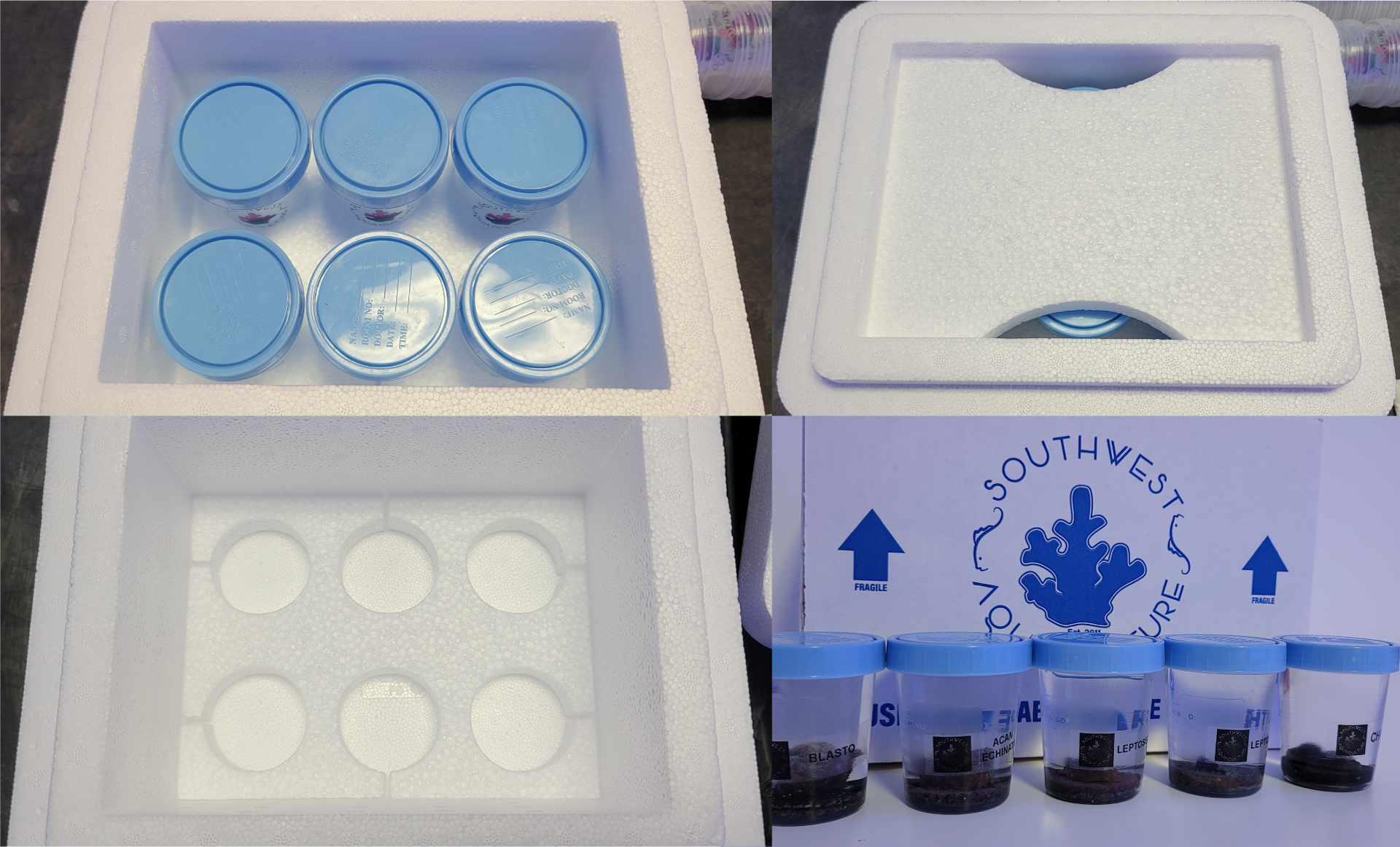 Shipping Options and Rates - (11/17/22)

Out of state orders will be shipped via FedEx Priority Overnight at a flat rate of $39. Livestock orders over $175 ship free for next day arrival (after pickup).

Our rate for in-state FedEx next day delivery is $29. Orders are guaranteed to arrive next day (after pickup).
Packages must be received on first attempt to qualify for any guarantee.
Refusal of shipment will void any guarantee.
If package is visibly damaged upon delivery, please immediately take a photo and initiate a claim through the carrier. We are not responsible for damages to packaging once they leave our facility, however we work closely with our carrier to emphasize care when handling our packages, and will always try to rectify the situation to the best of our ability.
*Orders received by 12pm MST ship that same day or on the next shipping day if after 12pm. For example if you place your order after 12pm on Wednesday your order will ship the following Monday to avoid weekend delays. We can also hold your order if you are out of town and need a few days. Please request any shipping holds in the order comments at the time of placing your order.
Shipping days are Monday, Tuesday, Wednesday - please refer to the table below for shipping and arrival dates. We do not ship holidays.
If you receive livestock that is DOA please immediately refer to our DOA procedure.
| | | |
| --- | --- | --- |
| Purchase Day by 12:00 pm MST | Ship Day | Arrival Day |
| Sunday | Monday | Tuesday |
| *Monday | Monday | Wednesday |
| *Tuesday | Tuesday | Thursday |
| *Wednesday | Wednesday | Thursday |
| Thursday | Monday | Tuesday |
| Friday | Monday | Tuesday |
| Saturday | Monday | Tuesday |
*FedEx Saturday delivery is currently unavailable.
Local Pickup and Delivery

Local pickup is available from our facility in Mesa, additionally if located within the Phoenix Metro area we can conveniently deliver your order to your home or office Monday through Friday, deliveries are free over $100 in purchases excluding the delivery fee or other charges. Under $100 in purchases delivery is $15. We reserve the right to void delivery options if your location is outside our local area. Please contact us prior if you are unsure about whether or not you are in within our delivery routes.
Weather and Holiday Exceptions
Due to heavy shipping volume, and increased risk of late shipment by freight carriers, we may decide to suspend shipping to prevent loss of corals. Conversely we may suspend shipments if weather at the destination point poses a risk of late deliveries. Your satisfaction, and the preservation of life are our top priority and these measures puts those interests first and foremost.